Baked Salmon with Spinach Mushroom Sauce. I actually couldn't get enough of this dish while pregnant. It is one of the easiest and tastiest, restaurant-quality dinners you will ever make. While salmon is in oven make sauce.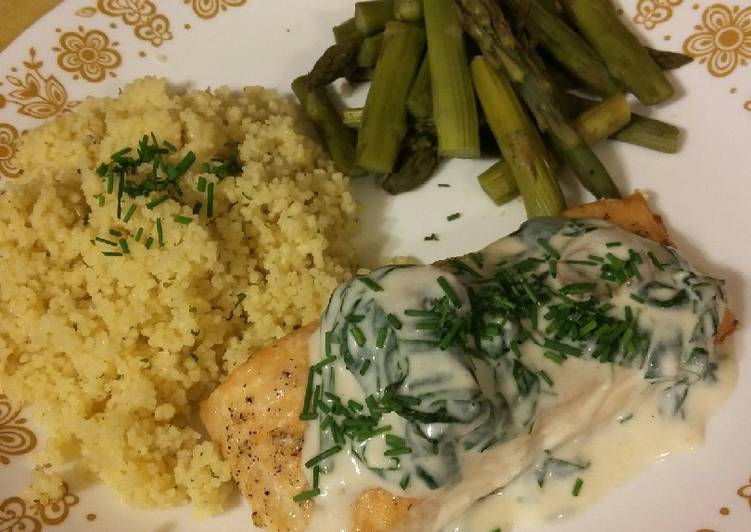 Transfer mushrooms and spinach to a small bowl. Mushroom and spinach cream sauce is a recipe which I made some days back. since nowadays I am living with an international group of people, I come across many recipes that I would have never even thought of cooking… All to do with my Indian cooking background. These recipes use simple ingredients… Easy Low Carb Dinner for Two! You can cook Baked Salmon with Spinach Mushroom Sauce using 11 ingredients and 5 steps. Here is how you achieve that.
Ingredients of Baked Salmon with Spinach Mushroom Sauce
It's 1.5 lb of fresh skin-on salmon fillet cut into 4 portions.
Prepare 4 tsp of olive oil.
Prepare to taste of salt, pepper, garlic powder, onion powder.
It's 3 tbs of unsalted butter – divided.
It's 4 oz of fresh white mushrooms – sliced (mine were very small).
Prepare 3 oz of (about) fresh spinach roughly chopped.
You need 1 tbs of flour.
You need 3/4 cup of half and half.
You need 1 tbs of minced fresh chives.
Prepare 1 pinch of cayenne.
It's to taste of additional salt and pepper.
One of our go-to meals for busy weeknights is a simple Pan Seared Salmon with sauteed veggies. This week, we just happened to have lots of mushrooms and spinach on hand and decided to create a simple dish out of them. Add the lemon juice and seasonings. Tip the spinach mix into an ovenproof dish and top with the lemon slices and salmon fillets.
Baked Salmon with Spinach Mushroom Sauce instructions
Place salmon, skin side down, on a paper towel lined plate. Pat tops dry with additional paper towels. Sprinkle with desired amounts of salt, pepper, onion and garlic powders. Cover. Refrigerate 1-2hrs.
Preheat oven to 350°F. Line a baking sheet with foil and lightly grease. Arrange salmon evenly spaced on baking sheet skin side down. Drizzle each with about 1 tsp olive oil and gently rub in. Place in oven. Bake 20-25 minutes.
While salmon is in oven make sauce. Heat a medium nonstick skillet over medium heat. Add 2 tbs butter. When melted add mushrooms. Sautée until tender, about 5 minutes. Stir in spinach, continue to sautée until wilted. About 2 minutes more. Transfer mushrooms and spinach to a small bowl. Return skillet to heat.
Add last tbs butter. When melted wisk in flour. Cook 2 minutes, wisking constantly. Wisk in half and half. Bring to a simmer until thickened, wisking constantly. Stir mushrooms and spinach into sauce along with chives. Stir in cayenne, then salt and pepper to taste.
When salmon is done remove from oven. Plate and drizzle with sauce. Serve with any desired sides. We chose couscous and steamed asparagus tonight. Enjoy!.
Meanwhile, scoop the sweet potato flesh from the skins and mash with the remaining milk and some seasoning. Serve the sweet potato mash alongside the salmon and creamy spinach. This pan-seared salmon that's surrounded by a decadent creamy garlic sauce filled with lightly sautéed spinach is to die for. It looks really complicated and fancy, but is actually quite easy. Since everything cooks in one pan, there's minimal clean up.