Roasted Butternut Squash and Pear Soup. Otherwise completed the recipe as written. Works with a variety of root vegetables/squashes/etc. We made it into a Butternut Parsnip and Rutabega Soup and got raves.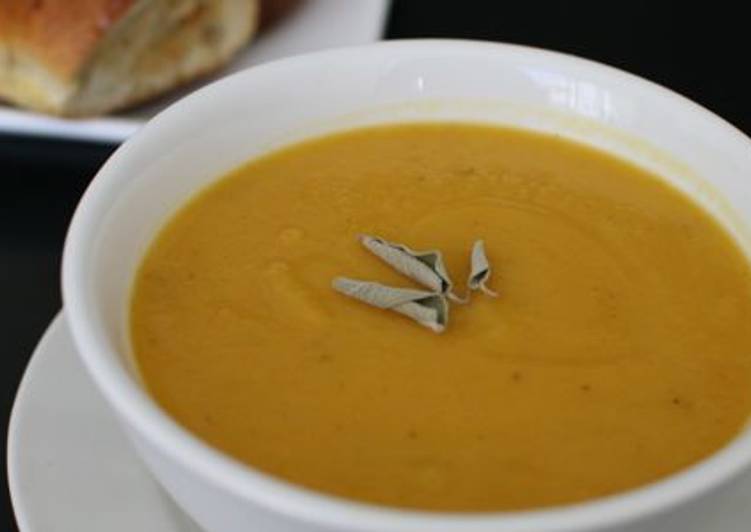 This Roasted Butternut Squash and Pear Soup is fall in a bowl. 🙂. From appetizers, entrees to dessert, we've got you covered ;). Here pears are roasted to sweet perfection with butternut squash and pureed to create a creamy soup that gets a luxurious garnish of Stilton cheese. You can have Roasted Butternut Squash and Pear Soup using 9 ingredients and 11 steps. Here is how you cook it.
Ingredients of Roasted Butternut Squash and Pear Soup
Prepare 1 of Butternut Squash , medium-sized.
You need 2 of Pears.
It's 6 of Sage Leaves , dried.
It's 1/2 of Yellow Onion , small – sized Thinly Sliced.
Prepare 1 Clove of Garlic , small – sized , chopped.
It's 4 Cups of Chicken Broth.
It's of Black Pepper.
You need of Salt.
You need of Olive Oil.
You can serve this as a first course or with a salad and crusty bread for a light autumn supper. Butternut squash can sometimes be hard to peel so that's why I prefer to roast all the vegetables (and pears) first. It's just easier and so much more flavourful this way. Serve the soup topped with a little bit of blue cheese and crusty bread on the side.
Roasted Butternut Squash and Pear Soup instructions
Preheat the oven to 400F..
Peel the squash, remove the seeds and membrane. Cut squash into 2″ chunks..
Peel and core the pears. Cut into quarters..
Toss the squash and pears with olive oil, salt, pepper, and sage. Place in roasting pan..
Roast the squash and pears in the preheated oven for about 45 minutes, until they are very soft..
In a pan, heat some olive oil..
Add the diced onion and garlic..
Cook, stirring occasionally, until the onion is transparent, about 5-7 minutes..
Working in batches and filling the blender no more than halfway full, place in the blender some of the roasted squash and pear, onion and garlic, and chicken stock. Pour into a large soup pot..
Puree the rest of the ingredients in batches until smooth..
Heat through and serve..
This salad combines fall's sweetest flavors: mellow butternut squash, crisp buttery pears, and crunchy pecans, with a slightly spicy kick from the vinaigrette. Sprinkle with the chile powder and toss. A sweet and savory butternut squash soup that will keep you warm during the fall and winter months. Place pears, squash and onion on a large sheet pan and drizzle with olive oil; season with salt and pepper. Tis the season for squash and pear!