Sig's Salmon filled filo purse. Drain the salmon fillets and allow them to cool. Remove the skin, then flake into a bowl. Add the egg, soft cheese, parsley and peas and mix well.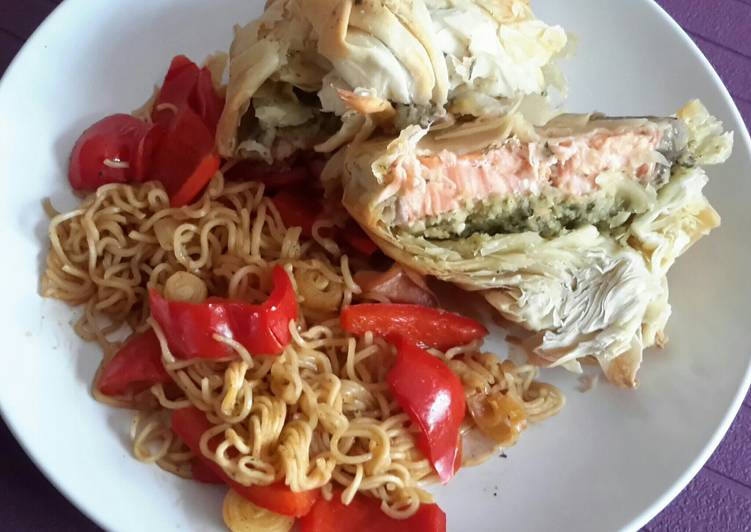 Brush with melted butter or margarine. Delightful salmon and feta cheese filling wrapped in puff pastry. I have substituted spinach and cooked tiny shrimp for salmon in this recipe too. www.goodtoknow.co.uk has lots of quick and easy food recipes like this salmon fillet in filo with caper butter. You can cook Sig's Salmon filled filo purse using 7 ingredients and 9 steps. Here is how you cook that.
Ingredients of Sig's Salmon filled filo purse
It's 6 tsp of pesto of choice, I used a bought unusual kale and smoked ricotta pesto.
It's 100 grams of whole wheat breadcrumbs.
You need of zest of one unwaxed lemon and a tablespoon of lemon juice.
Prepare 4 tbsp of bought or homemade peri peri sauce.
You need 4 piece of fresh filet of salmon, each one about 170 grams (other preferred fish can be used).
Prepare 50 grams of garlic butter.
It's 12 sheets of filo pastry, cut into the largest square you can get out of each one.
Lightly brush one sheet with butter, place on work surface and lay one salmon fillet in middle. Gently bring up the pastry to cover sides of fish and overlap top edges but leave fish visible. The Best Healthy Filo Pastry Recipes on Yummly Turkey And Cranberry Bundles, Mars Bar And Banana Pastries, Apple Canberry Walnut Turnovers.
Sig's Salmon filled filo purse step by step
First preheat the oven to 200 °C, 400 °F, GAS 6.
Mix the breadcrumbs with the pesto, zest and juice.
Melt the garlic butter. Then lay out one of the sheets, cut it into the largest square you can get, spread with some of the melted butter add a sheet of pastry that also has been squared,butter it and then repeat one more time thus having three sheets on top of each other.
Rub the salmon generously with peri peri sauce, then put one piece of salmon onto the middle of the square, (if it is to big cut it in half and lay it side by side. Top,it with the bread crumb mix.
Spread the top of the pastry with butter and twist the salmon and pesto filled filo pastry into a purse shape.
Brush with some more of the butter and set it on a baking tray.
Event the same with the other salmon pieces until you have 4 parcels.
Remember to work pretty fast as filo pastry dries to very quick.
Bake for about 25th minutes until the pastry is golden brown, turn the temperature down if it browns to quick to 175°C or cover with a little tinfoil.
This crunchy open filo tart is the perfect light meal when served with salad or eaten on the go. Try this delicious vegetarian recipe at Tesco Real Food. Filo Cases are extremely easy to make once you get the hang of it. Once made, they'll keep in an airtight container for about a week and are delicious filled with sweet and savoury! Place one salmon fillet on the filo and egg wash the edges again.