Baked Salmon with Caramelized Onions. I baked my salmon in the oven and used sliced onions rather than minced. It's great served with wild rice pilaf and broccoli. Fish baked in parchment is delicious to eat, fun to prepare with the whole family, and very healthy.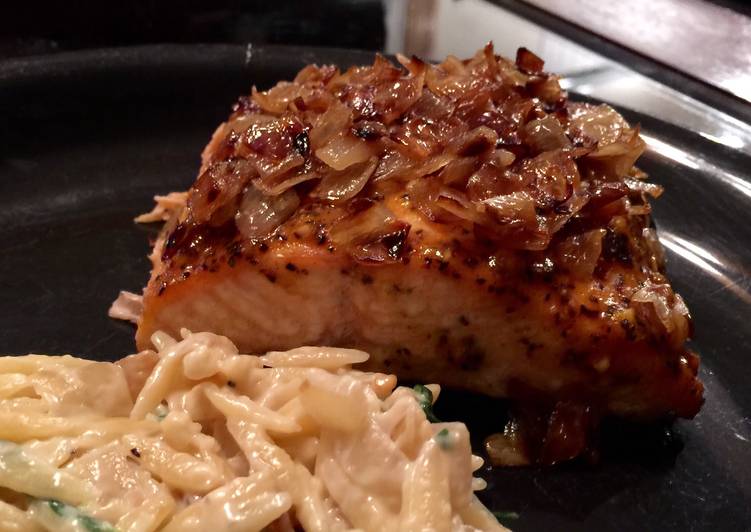 Fill a baking sheet or large casserole dish with the parchment packages. I love salmon and also love collecting salmon recipes. This one is from Kosher Cooking. You can cook Baked Salmon with Caramelized Onions using 11 ingredients and 5 steps. Here is how you cook it.
Ingredients of Baked Salmon with Caramelized Onions
You need 1 lb of Salmon fillets.
It's 1 large of Onion.
You need 1 1/2 tsp of Black pepper.
Prepare 1/2 tsp of Paprika.
You need 3 clove of Garlic.
You need 1/4 tsp of Cayenne pepper.
Prepare 1/2 tsp of Onion powder.
It's 1/4 tsp of Salt.
Prepare 1 tbsp of Dijon mustard.
Prepare 1 tbsp of Brown sugar.
You need 1 tbsp of Olive oil.
Sprinkle salmon with salt and pepper to taste. Place on lightly oiled heavy baking sheet. Seared Asian Salmon with Caramelized Onions and Lemon-Cilantro Edamame PureeThe Woks of Life. This caramelized salmon is simple, healthy and completely gorgeous.
Baked Salmon with Caramelized Onions step by step
Combine pepper, salt, paprika, cayenne, onion powder, garlic, sugar, mustard, and olive oil. This should make a thick paste.
Spread mixture over salmon and let sit for an hour or so.
Chop onion. Heat olive oil in a pan and add onion. Cook until golden & caramelized. Set aside.
Preheat oven to 400. Bake salmon for approx 20 mins. I sometimes add a little maple syrup to the bottom of the pan before baking. Make sure to put down non stick foil if you do this for easier cleanup.
Spread caramelized onions generously over the top of the salmon. Serve.
It's like you're painting a beautiful and crunchy caramelized outer crust on one of America's most beloved fish-es. In a pan, sauté onions in oil. Press garlic through a garlic press into the pan. Stir in sugar and cook until caramelized. Add the salmon and gently fold into the kale and onion mixture.