Pesto Shrimp with Pasta and Broccoli. Shrimp Pasta with Broccoli Pesto looks delicious will definitely give this a shot next month. A shrimp recipe i would make for a party is between the classic shrimp cocktail, shrimp boil or curried coconut shrimp balls A fast and easy weeknight dinner recipe, the whole family will love this lemony, garlicky, shrimp and broccoli penne pasta. Reserve ½ cup cooking liquid, and set aside.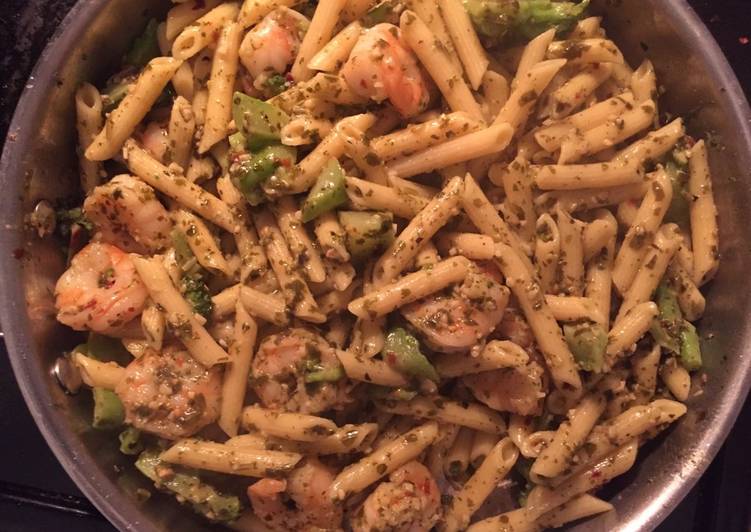 Combine all the ingredients to allow broccoli to catch the pesto sauce. Boil pasta according to package directions. Ziti, penne, rigatoni, fusilli or similar short pastas may be used (do not use long, noodle-like pasta). You can have Pesto Shrimp with Pasta and Broccoli using 9 ingredients and 8 steps. Here is how you achieve it.
Ingredients of Pesto Shrimp with Pasta and Broccoli
It's 3-4 ounces of pesto spread or sauce.
Prepare 2 tablespoons of extra virgin olive oil.
Prepare 2 cups of frozen or fresh broccoli.
You need 2 teaspoons of red pepper chili flakes (optional).
It's 1 cup of tail-off shrimp (About 4 oz each serving).
It's 1 teaspoon of Sea salt.
Prepare 2 teaspoons of freshly ground peppercorns.
It's 1 tablespoon of minced garlic.
It's Half of cup of Parmesan or Feta (optional).
The broccoli should be firm and a bright green when cooked (al dente). Bring a large pot of lightly salted water to a boil. Add olive oil – it should run without sizzling. This pesto chicken and broccoli dinner is a jazzed up version of my favorite creamy chicken and broccoli pasta.
Pesto Shrimp with Pasta and Broccoli step by step
While water is boiling for pasta, add 1 tablespoon of olive oil to a large 12-inch skillet pan and heat on medium-high.
After the oil is heated, add minced garlic and stir frequently until a very light toast.
Add shrimp to the pan. Stir the garlic around with the shrimp occasionally until shrimp reaches the correct pink cooked color. If shrimp is frozen, simply cook until defrosted. Immediately add broccoli. If broccoli is frozen, add frozen broccoli when you add the frozen shrimp.
It should be time to boil the pasta. Add pasta with a tiny drop of olive oil. Cook until al dente.
Add 1 teaspoon red chili flakes and 1 oz of pesto sauce to shrimp and broccoli and stir. Set heat to low.
Once pasta is boiled, drain and add to skillet pan with the shrimp and broccoli.
Add remaining pesto sauce, red chili flakes, and olive oil to the pasta and stir. Add salt and pepper to taste.
Top with grated cheese of choice and serve.
It's loaded with garlic, parmesan, pesto, and chicken + broccoli. The chicken is first cooked in browned garlic and onions then the parmesan, pesto and cream is added and that's where the real fun begins. Seafood and pasta are a time-tested duo, easy to dress up in any number of delicious ways. Tonight's gourmet Italian recipe features shrimp and gnocchi, simply tossed with a fresh pesto made with spinach, parsley and walnuts. Roasted broccoli, finished with garlic and lemon juice, rounds out the meal on a simple, seasonal note.