Kayla's shrimp and clam chowder. This is a very rich, great tasting chowder. Perfect for fall and winter, or if your in the mood for some comfort food. Note: I've only used smoked paprika in this dish, not sure how regular paprika will taste, (if you decide to include it) it is optional.**This recipe has been updated, thank you to my reviewers :D.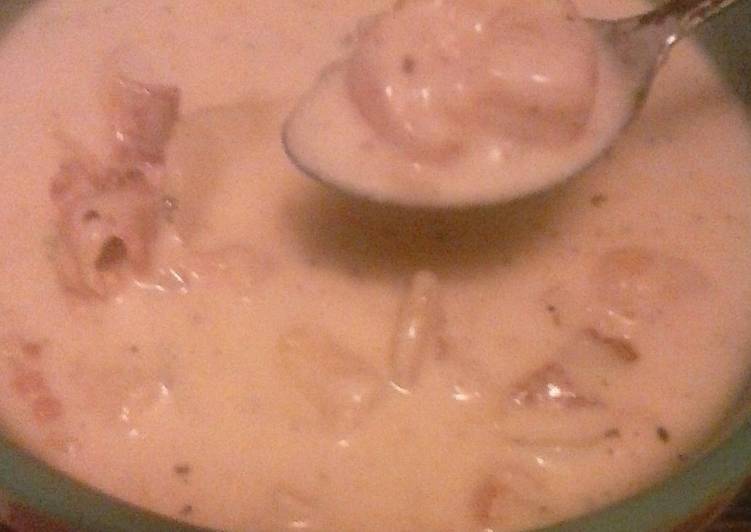 I suppose it would seem far easier just to open a can when the urge for chowder hits. But if you've ever been fortunate enough to have a bowl of chowder. Try this Clam and Shrimp Chowder recipe, or contribute your own. You can cook Kayla's shrimp and clam chowder using 13 ingredients and 2 steps. Here is how you cook that.
Ingredients of Kayla's shrimp and clam chowder
Prepare 1 packages of bacon, crumbled.
It's 1 cup of onion, chopped.
Prepare 1 can of chicken broth.
Prepare 1 box of au gratin potato mix.
Prepare 3 1/2 cup of milk.
Prepare 1 lb of cooked shrimp.
You need 2 can of clams.
Prepare 1/2 cup of sour cream.
It's 1 of paprika.
It's 1 of garlic powder.
Prepare 1 of basil.
You need 1 of salt.
Prepare 1 pints of heavy whipping cream.
The first time I made it I added a can of cream of celery soup and a can of baby clams (drain juice to use/wash and drain clams) so it was a "shrimp/clam" Reviews for: Photos of Shrimp Chowder. Butter, onions, celery stalks, potatoes, fennel seeds, all-purpose flour, paprika, chicken broth, clams, shrimp, sweet red bell peppers, corn, light cream (half&half), salt, black pepper, dill weed, fresh. Add onion, celery, potatoes and fennel. How to Make Shrimp & Clam Chowder.
Kayla's shrimp and clam chowder instructions
Mix bacon, onions, chicken broth, potato mix, milk, heavy cream, and seasonings in sauce pan and bring to a boil.
Stir in shrimp, clams, and sour cream. Bring to a simmer and let cook for about 20 minutes.
Add butter & shrimp, cooking until shrimp is pink. Add onions & celery and sauté until translucent. Near the end, add garlic & sauté until fragrant. In medium size pot, pour whole milk, whipping cream, pepper, salt, clams, and diced shrimp. A New England clam chowder recipe made brothy with milk in the Maine style.