Black Bean and Rice Skillet. Add olive oil – it should run easily but not sizzle or burn. Add rice, black beans, lime juice, water, spices, and salt. Cook and stir until rice and black beans are heated.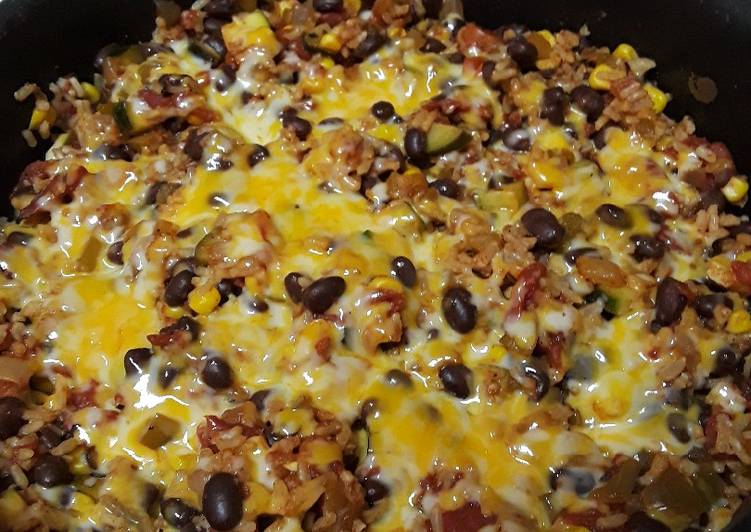 Increase heat and bring to a boil. This zesty One-Pot Shrimp Black Bean Rice Skillet is a fabulous fusion of Cajun and Mexican flavors, just in time for Cinco de Mayo and National Shrimp Day!. There are reasons why Americans eat more shrimp more than any other seafood… It's juicy, loaded with lean protein, packed with salty-sweet ocean flavor, and quick to cook. You can cook Black Bean and Rice Skillet using 14 ingredients and 4 steps. Here is how you cook that.
Ingredients of Black Bean and Rice Skillet
You need 1 tbsp. of olive oil.
It's 1 of small zucchini, quartered lengthwise and sliced.
Prepare 1 of small bell pepper, diced.
Prepare 1/2 of yellow onion, diced.
It's 2 cloves of garlic, minced.
Prepare 1 cup of corn kernels.
Prepare 1 can (15 oz.) of unsalted black beans, drained and rinsed.
It's 1 can (14.5 oz.) of fire roasted diced tomatoes.
You need 3/4 cup of unsalted vegetable broth.
You need 1 cup of instant brown rice.
You need 2 tsp. of chili powder.
Prepare 1 tsp. of cumin.
You need 1/2 tsp. of each oregano, smoked paprika, salt and pepper.
Prepare 1/2 cup of freshly shredded cheese.
Heat oil in large skillet over medium-high heat. Stir in black beans, undrained tomatoes and water; bring to a boil. This Black Bean Brown Rice Vegan Taco Skillet is a super easy dinner or make ahead lunch – serve in a bowl, over a salad or in taco shells. If you follow me on Instagram , then you saw my post a couple weeks ago when I made this vegan taco skillet and asked if you all wanted an official recipe on TSV.
Black Bean and Rice Skillet instructions
Heat the oil in a large skillet with a tight fitting lid over medium heat. Once it's hot, add the onion, peppers and corn kernels. Cook, stirring occasionally, for 3-5 minutes until the onions and peppers begin to soften and the corn has some color on it.
Increase the heat up to med-high. Stir in the garlic, zucchini, diced tomatoes, drained beans and seasonings. Give it all a stir. Once the garlic and seasonings are fragrant, add the rice and stir it around for a minute to toast it a bit.
Pour in the vegetable broth and once it reaches a boil, place the lid on. Turn down the heat to med-low, and simmer for 10 minutes. Then turn the heat off, but leave the lid on and let it sit for 5 more minutes.
After it sits, check it. The liquid should be pretty much absorbed. Sprinkle the cheese over the top and place the lid back on for another 2 or so minutes, until the cheese melts. Then serve it up.
Create this protein-filled skillet feast by complementing tender chicken breast strips and fluffy GOYA® Yellow Rice with delicious GOYA® Low Sodium Black Beans, seasoned with savory rustic flavors! In a large skillet, simply bring beans to a boil along. This Mexican-inspired black bean and rice skillet is a one-pot dinner recipe made with pantry staples! I've done several variations since, but decided to try a summer version using the first peppers out of my garden. This black beans & rice skillet recipe is from the "All Seasons" section of Simply in Season.