Panko Baked Avocado tacos.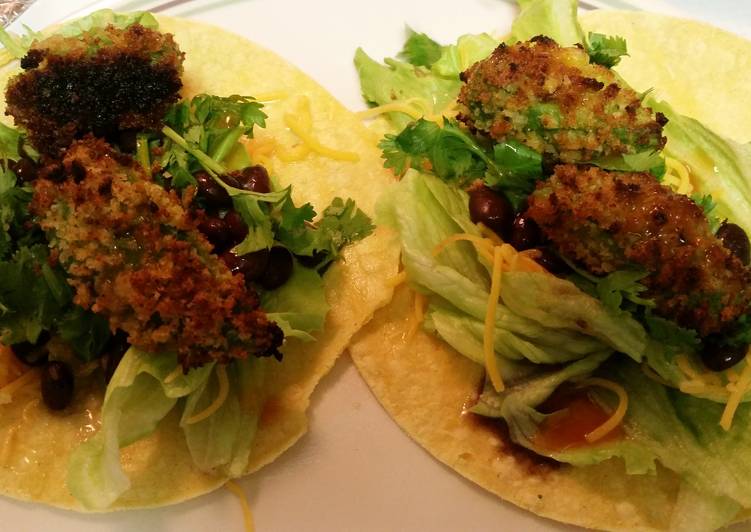 You can cook Panko Baked Avocado tacos using 14 ingredients and 6 steps. Here is how you cook that.
Ingredients of Panko Baked Avocado tacos
It's of Panko Avocados.
You need 2 of large avocados.
It's 2 tbsp of olive oil or Avocado oil.
Prepare 2 tbsp of plain, unsweetened almond milk.
It's 3/4 cup of panko bread crumbs.
Prepare 1/4 tsp of each salt and pepper.
Prepare 1/2 tsp of ground cumin.
Prepare 1/2 of garlic powder.
You need of For Serving.
Prepare 6 of corn or flour tortillas.
Prepare 3/4 cup of cooked Pinto or black beans.
Prepare 1 of lime juice.
You need 1 of fresh cilantro, chopped.
You need 1 of hot sauce and/or salsa.
Panko Baked Avocado tacos instructions
Preheat oven to 450°F, line a baking sheet w/ foil, & prepare dipping stations by whisking together almond milk & oil in a shallow bowl, and mixing panko bread crumbs and spices in another shallow bowl.
Halve avocados & carefully use large knife to cut into the pits, twist and remove. Then lay avocado have skin side down & cut into 3 equal parts. Each avocado should yield 6 pieces. Repeat until you have 12 pieces. Gently peel away skin.
Dip Avocados first into almond- olive oil mixture, then transfer to the panko-spice mixture & gently coat. Transfer to foil-lined baking sheet and repeat until all are coated.
Bake for 10 to 12 minutes or until lightly browned on the exterior.
While avocados are baking, prep toppings. Warn beans + season to taste, slice lime, chopped cilantro.
When I have a cuddle there done baking, remove from oven and immediately assemble tacos. They taste best when fresh. Enjoy!.