Brown Sugar Glazed Salmon. Pop these protein-packed salmon fillets in the oven before whipping up a sweet basting sauce. This tangy entree cooks up in minutes making it a perfect meal for busy families and unexpected weekend guests. This Brown Sugar Glazed Salmon Recipe is an easy weeknight dinner idea that will have everyone coming back for seconds!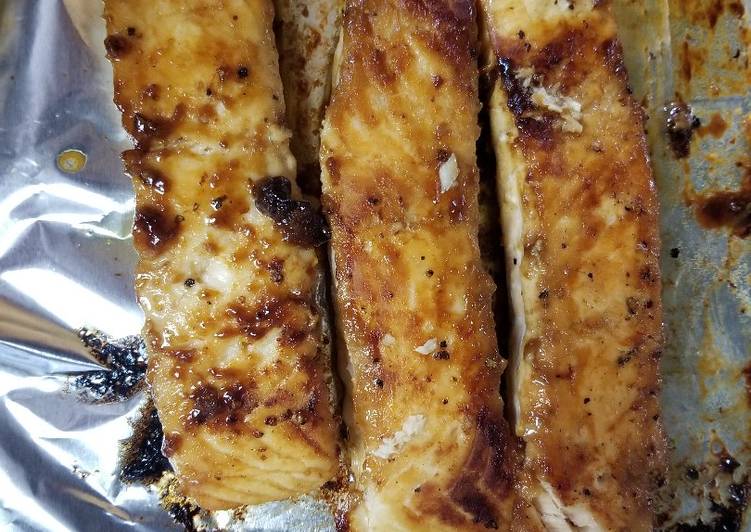 Place skin-side down on the foil next to the foil crease. Pour the glaze all over the salmon, lifting the salmon to get some of it underneath. Make a mixture of Dijon mustard and brown sugar to the degree of spicy-sweetness that pleases you. You can have Brown Sugar Glazed Salmon using 9 ingredients and 4 steps. Here is how you achieve it.
Ingredients of Brown Sugar Glazed Salmon
You need 1 tablespoon of brown sugar.
It's 2 teaspoons of butter.
It's 1 teaspoon of honey.
Prepare 1 tablespoon of olive oil.
Prepare 1 tablespoon of Dijon mustard.
Prepare 1 tablespoon of soy sauce.
Prepare 1/2-3/4 teaspoon of salt.
You need 1/4 teaspoon of pepper.
Prepare 2-2 of and 1/2 pounds salmon.
Salt and pepper the salmon fillets. Place them skin-side down on a lightly oiled, foil-lined baking sheet, slather the tops with the mustard and brown sugar glaze and slide them into the top half of your oven. How to make Garlic Brown Sugar Glazed Salmon? Since this is a fast recipe to make, the first step would be to have all of your ingredients together and Pour the melted butter and the glaze mix over the salmon, and then add another piece of foil on top.
Brown Sugar Glazed Salmon step by step
In small saucepan over medium heat, stir and cook brown sugar, honey, and butter until melted. Remove from heat. Whisk in oil, mustard, soy sauce, salt and pepper. Cool for 5 minutes.
Place salmon in foil lined baking pan.
Brush with glaze.
Bake uncovered 350 degrees for 20-25 minutes.
Ensure the sides are crimping together and are. Put the salmon into a large plastic freezer bag and add half of the marinade. Reserve the remaining marinade for basting. Seal the bag and turn it several times to coat. The Bourbon and Brown Sugar Glazed Salmon could have fit on one page with room to spare.