Rice Cooker Apple Upside-down Cake.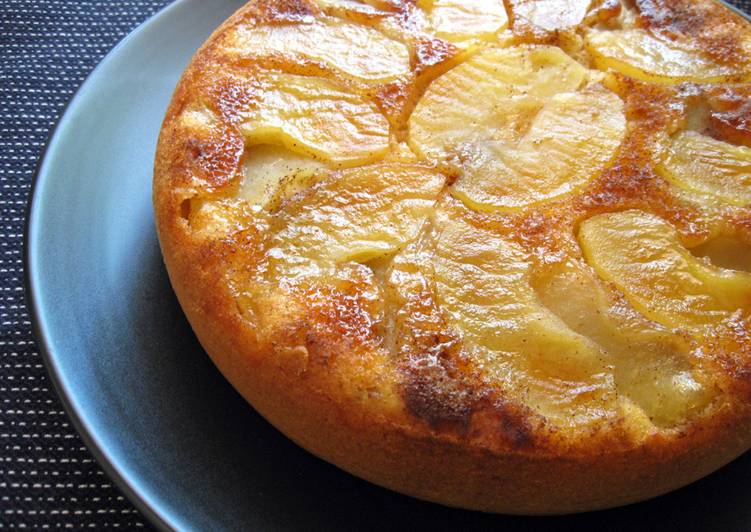 You can cook Rice Cooker Apple Upside-down Cake using 10 ingredients and 5 steps. Here is how you achieve that.
Ingredients of Rice Cooker Apple Upside-down Cake
Prepare of *I used my 10 cup capacity rice cooker which inner pot is 20cm in diameter.
You need 1-2 of Apples *Today I used 1 & 1/2 Pink Lady Apples.
You need of Cinnamon.
Prepare 50 g of Butter *melted.
Prepare 1/4 cup of Caster Sugar *OR 1/2 cup for sweeter cake.
It's 2 of Eggs.
It's 1 teaspoon of Vanilla Extract.
Prepare 1 cup of Self-Raising Flour.
You need 1/2 cup of Milk.
Rice Cooker Apple Upside-down Cake step by step
Line the base of rice cooker's inner pot with baking paper.
Peel skin (*optional) and cut Apples into wedges. (I cut each Apple into 12 wedges.) Arrange them on the baking paper-lined inner pot. Sprinkle Sugar and Cinnamon over the Apple wedges.
Make the cake mixture. Mix melted Butter and Sugar until creamy, add Eggs and Vanilla and mix well. Add Flour and Milk and mix until smooth.
Pour the mixture over the Apple wedges and smooth the surface. Press 'Start' button at 'Cake' setting. When the cake is cooked, carefully take the inner pot out and set aside to cool before turning onto a plate.
*Note: Top of the cake cannot be browned, but the cake looks fine upside-down. It took 40 minutes for my rice cooker to cook.