Gluten-free carrot cake🧡 – This recipe is fantastic for when you have no idea what to cook. You can cook Gluten-free carrot cake🧡 using 15 ingredients and 4 steps. Here is how you cook that.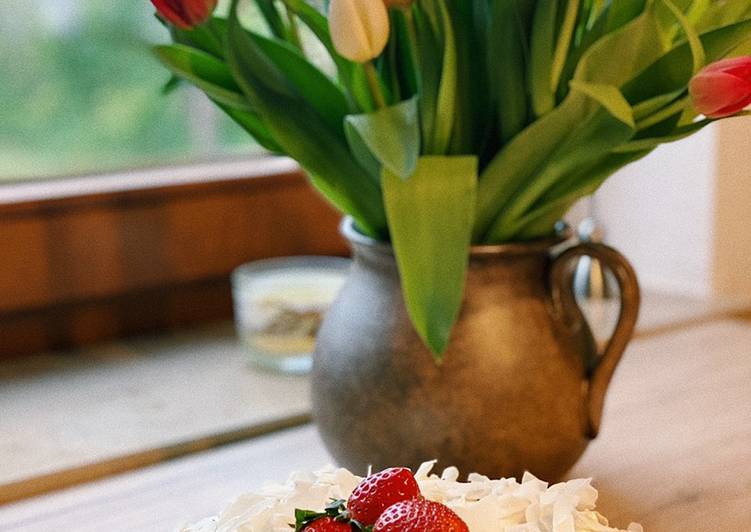 Ingredients of Gluten-free carrot cake🧡
It's 400 g of carrots.
Prepare 400 g of apples.
It's 100 g of butter.
It's 150 ml of sunflower oil.
You need 3 of eggs.
You need 500 g of Ground almonds.
It's 320 g of sugar.
You need 1 1/2 tsp of baking powder.
You need 1/2 tsp of baking soda.
You need 1 tsp of ground cinnamon.
Prepare 1/2 tsp of salt.
Prepare 100 g of chopped walnuts.
You need 150 g of unsweetened shredded coconut.
Prepare 450 g of cream cheese.
You need of Oil for greasing.
Gluten-free carrot cake🧡 Instructions
Preheat oven to 175°C. Peel and grade apples and carrots in separate bowls. Add grated apples to a saucepan, and let cook for approx 5 min.
Melt butter in a small saucepan. In a large bowl, mix sunflower oil with melted butter and eggs. Gradually mix in ground almonds and 250 g of sugar. Add baking powder, baking soda, cinnamon and salt. Then mix in grated carrots, cooked apples, chopped walnuts, and 70 g of shredded coconut. Grease two baking pans, then fill them with the mixture evenly. Transfer to the oven and bake for approx 45 min. Then set aside and let cool.
For the frosting, whip cream cheese and the 70 g of sugar with a hand mixer or buy hand until fluffy. Place one cooled cake base on a plate and spread with half of the cream, then place the other cake base on top of it.
Coat the cake with remaining frosting. Sprinkle cake with remaining shredded coconut(80 g). It's best to let the cake sit overnight before eating it. Enjoy !