Salmon Patties with Dill Sauce. Easy salmon patties are pan-fried and served alongside a simple sour cream and dill sauce perfect for appetizers or a simple main dish. My daughter and I love salmon patties, and we found this version that is healthier than salmon patties made with mayo. These cute little patties are a great way to get my whole family to enjoy salmon, even my toddler!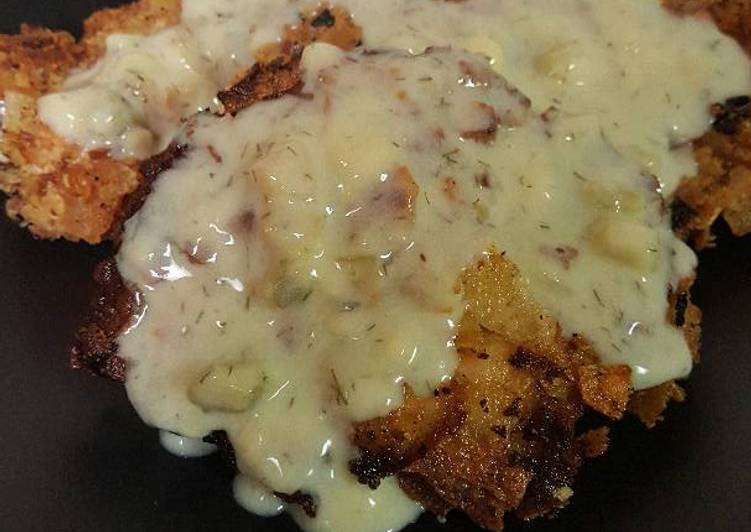 Dip patties into cracker crumbs to coat. Melt butter or margarine in a large skillet. Pan fry patties until golden brown on both sides. You can have Salmon Patties with Dill Sauce using 11 ingredients and 5 steps. Here is how you cook that.
Ingredients of Salmon Patties with Dill Sauce
You need 2 tbsp of butter.
Prepare 3 tbsp of flour (if use gluten-free will need to use a little less flour or a little more milk).
It's 1 1/4 cups of milk, divided.
It's 1 tsp of cider vinegar.
It's 1/2 tsp of salt.
Prepare 1/4 tsp of pepper.
You need 15 oz of canned salmon, skinless & boneless.
You need 5 1/2 oz of potato chips, crushed.
It's 1 cup of vegetable oil.
You need 1 can of cream of celery soup.
Prepare 1 tsp of dried dill.
Salmon Patties – quick to prepare, golden and crispy on the outside, moist and savoury on the inside with lovely big flakes of salmon! A very easy salmon cakes recipe that can be made with either canned salmon OR fresh salmon. See how to make Low-Carb Salmon Patties with Double-Dill Tartar Sauce! I don't remember my mom ever cooking fresh fish for our family, except for the very occasional time when my dad would go fishing and bring home Utah Rainbow Trout, which mom would pan-fry whole and we'd eat them with lots of.
Salmon Patties with Dill Sauce instructions
Heat butter in saucepan until melted. Add flour, stirring until blended. Cook, stirring mixture continually, until bubbly. Stir in 1/4 cup milk & the vinegar. Cook white sauce, stirring continually, until thickened. If using gluten-free flour, will need to continue adding milk a little at a time til it is a thick sauce. Add salt & pepper, mix well. Remove from heat.
Drain salmon. Flake salmon & stir into white sauce.
Form salmon mixture into patties. Coat patties in crushed chips.
Heat oil in large skillet over medium-high heat. Fry patties in oil, turning once, until browned, drain.
For the dill sauce, combine the soup, 1 cup milk, & dill in small saucepan & mix well. Bring to a boil, stirring occasionally. Reduce heat. Simmer, stirring frequently, for 3 minutes. Serve with patties.
Combine salmon and mayo in a small bowl and mash together. Serve patties on a bed of lettuce, with cherry/grape tomatoes, and the sauce on the side. This delicate poached salmon with a bright yogurt-dill sauce makes for an easy, light dinner that can be served chilled, room temperature, or warm. The secret to the tenderest and juiciest fish is to use a cold-start poaching method, in which the fish is added to cold poaching water and then gently heated. In small bowl, combine all sauce ingredients.