Fiesta Broccoli, Rice and Beans. Make the best Fiesta Broccoli, Rice and Beans with this easy recipe. Find thousands of free, expert-tested, printable recipes on HowStuffWorks.com. Top each serving of rice and beans with broccoli and cheese.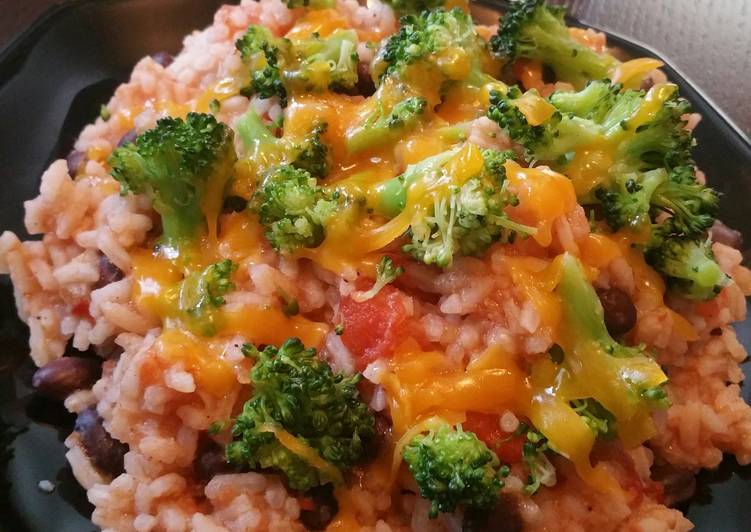 The broccoli should bring the temperature of the rice down just to the point where it is hot/warm, but not so hot that the cheese immediately melts when stirred into the rice. It's a hearty skillet chili of bacon, rice and vegetables that's ready in minutes. This simply seasoned broccoli rice is a low-carb replacement for rice in stir-fries and can also be used in veggie tacos or grain bowls. You can have Fiesta Broccoli, Rice and Beans using 6 ingredients and 3 steps. Here is how you cook it.
Ingredients of Fiesta Broccoli, Rice and Beans
You need 2 cup of frozen broccoli florets.
Prepare 2 cup of uncooked instant rice.
Prepare 1/2 tsp of chili powder.
It's 1 cup of salsa or picante sauce.
You need 1 can of black beans, rinsed and drained.
You need 1/4 cup of shredded Cheddar or Pepper jack cheese.
Tasty alone or as a replacement for rice under your favorite stir-fry or sauce. This also makes a great filling for tacos, over a grain bowl, or cool and toss in a salad. rice and beans come together in this spicy side dish. Prefect if you love Mexican cuisine. MORE+ LESS Sometimes called red Mexican beans, dry pinto beans are pale pink with streaks of reddish-brown.
Fiesta Broccoli, Rice and Beans step by step
Place broccoli and 2 tablespoons of water in microwavable dish. Cover loosely with plastic wrap, Cook at high 4 to 5 minutes or until crisp tender.
Cook rice according to package directions,adding chili powder to cooking water.
Stir salsa and black beans into hot cooked rice. Top each serving of beans and rice with broccoli and cheese.
Add tomatoes, rice and water to skillet. Throw a curveball into your next gathering with our delicious Broccoli Rice Casserole. The cheesy rice and crunchy bread topping are sure to be a homerun. This hearty broccoli rice casserole is my usual choice to make for a potluck. With the green of the broccoli and the rich cheese sauce, it's pretty to serve, and it makes a tasty side dish for almost any kind of meat. —Margaret Mayes, La Mesa, California.