Chicken Fried Brown Rice & Sweet Basil. Leftover brown rice is reborn in this chicken fried rice with peppers and onions. Black pepper, paprika, or dried parsley may be used to season after this is cooked. All Reviews for Garlic Chicken Fried Brown Rice.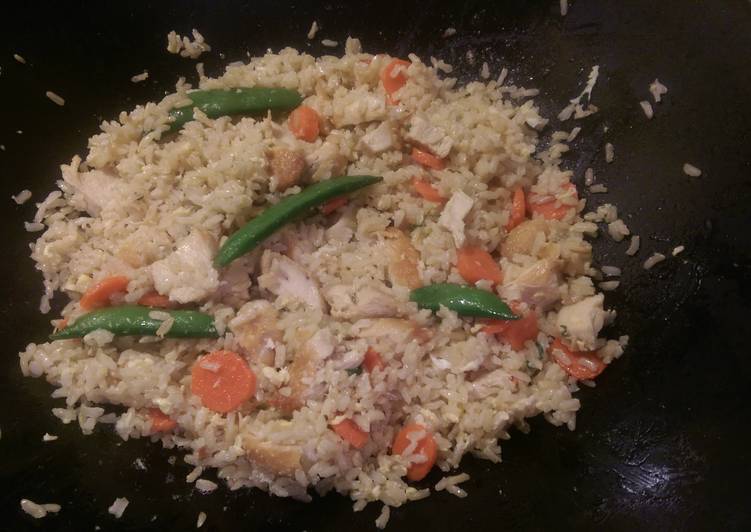 I think it must be a teenage boy thing to love chicken fried rice. Brady used to ask us to go get it as takeout for him whenever the hankering hit him until I developed a. Chicken Fried Rice that's made with brown rice and lean chicken breast instead of white rice and ham. You can have Chicken Fried Brown Rice & Sweet Basil using 9 ingredients and 6 steps. Here is how you cook it.
Ingredients of Chicken Fried Brown Rice & Sweet Basil
Prepare 2 of precooked chicken breasts.
You need 1 cup of precooked brown rice.
Prepare 4 of fresh sweet basil sliced.
It's 1/2 cup of sliced carrots.
You need 1 tbsp of sliced green onions.
It's 6 each of snow pea pods.
You need 3 tbsp of sunflower coconut oil.
You need 1 of eggs.
You need 1 tsp of agave sweetener.
What Ingredients go into Chicken Fried Rice? Brown rice – leftover rice from the day before works best. Heat remaining tablespoon of oil in skillet. Fried Brown Rice is a healthy alternative to your favorite takeout options.
Chicken Fried Brown Rice & Sweet Basil step by step
Preheat wok w/ 3tbsp oil, of choice, on medium/low heat. Add chicken and vegetables. Let cook for about 4min.
Wisk egg, and add sweetener.
Move chicken and vegetables to sides of wok, add egg batter. Let egg firm.
Once egg batter starts looking like the beginning of scramble eggs, add brown rice.
Let cook for 5-8 minutes, stir to prevent rice from sticking.
Enjoy!.
You can easily serve up more fiber, but with all the same great flavor! When we say Fried Brown Rice, we don't mean white rice fried in a classic brown sauce, we're talking about actual brown rice fried rice! Teriyaki Chicken Fried Rice is similar to Chicken Fried Rice, only it uses Teriyaki sauce instead of soy sauce. Transfer the cooked chicken mixture to a medium bowl; wipe skillet clean. Cook up a batch of rice on a Sunday and you can make fried rice dinners throughout the week.