Spinach, Tofu and Filo Pie (Vegan!).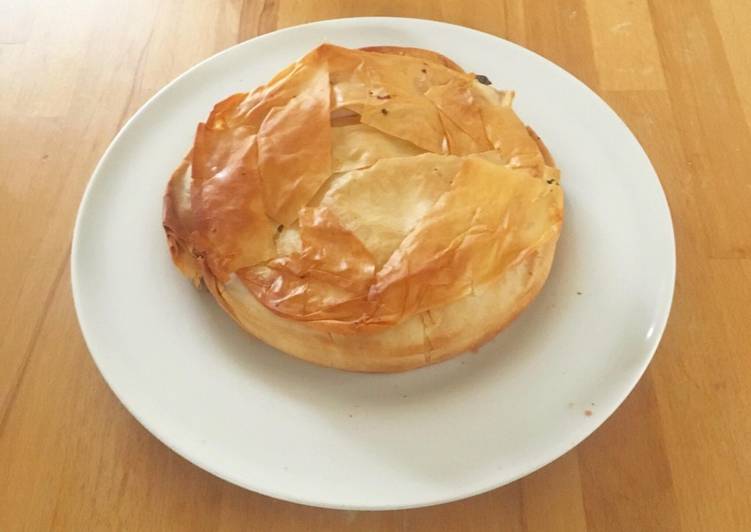 You can cook Spinach, Tofu and Filo Pie (Vegan!) using 13 ingredients and 5 steps. Here is how you cook it.
Ingredients of Spinach, Tofu and Filo Pie (Vegan!)
Prepare 4 Tbsp of Olive Oil.
It's 1 of Leek, Finely Chopped.
You need 2 Cloves of Garlic, finely chopped.
Prepare 300 g of Fresh Spinach.
You need 200 g of Tofu, drained and pressed. (I used smoked).
It's 50 g of Breadcrumbs.
Prepare 2 tsp of Smoked Paprika.
It's of Lemon Zest.
You need 2 tsp of Garlic Granules.
You need 2 tsp of Oregano.
Prepare 1 tbsp of Balsamic Vinegar.
It's 1 tsp of Nutmeg.
It's 1 Pack of Filo Pastry.
Spinach, Tofu and Filo Pie (Vegan!) instructions
Heat up 2 table spoons of olive oil. Add the finely chopped leek and cook for a few minutes, until soft.
Add the garlic, paprika and spinach (it helps to add to add a handful at a time). Cook down until it is very soft, stirring constantly (for about 5 minutes). When it is cooked leave to cool. You might need to press some of the liquid out of the spinach if it is very runny, I recommend you keep the liquid in case you need it later (it has lots of flavour).
Mash up the tofu. Add the garlic granules, oregano, balsamic vinegar, nutmeg and lemon zest. Then add the spinach mixture and the breadcrumbs, season with the salt and pepper. Here you will be able to tell if you need to add any liquid back to the mix.
Pre-heat the oven to 190c (gas mark 5). Grease a tin and line it with filo pastry, you can brush a little olive oil between the pastry sheets. When you get halfway add the spinach mixture. Spread it so the mix is a few centimetres from the edge. Add the remaining pastry on top and brush with the remaining oil.
Bake in the oven for 35-45 minutes, until the filling is piping hot the pasty is golden-brown.