Stuffed salmon. Stuffed Salmon filet with a crabmeat, spinach and cream cheese stuffing. Easy to make and great for family, friends or entertaining! Season salmon all over with salt and pepper.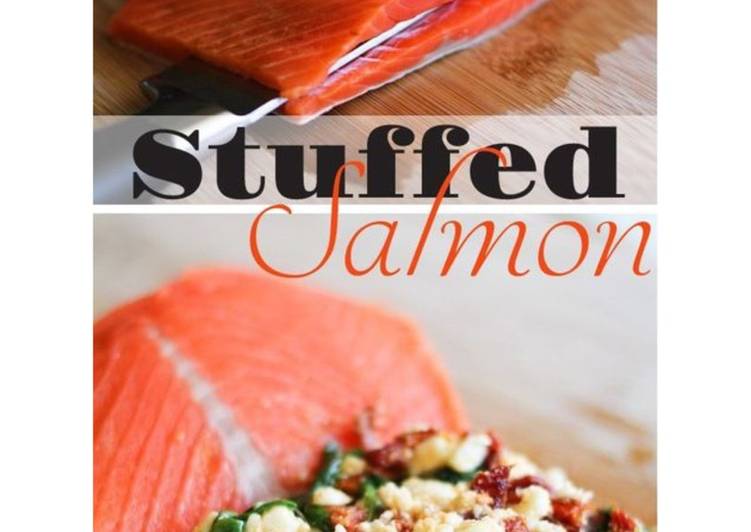 You could get stuffed salmon from a big-box store, but my fillets are loaded with flavor from crab, cream cheese and savory herbs. Seafood-Stuffed Salmon Fillets Recipe photo by Taste of Home. Here's what you'll need. *two filets can feed two people if you cut in half. depending on the size of the filets* for smaller portions use. You can cook Stuffed salmon using 7 ingredients and 4 steps. Here is how you cook that.
Ingredients of Stuffed salmon
You need 2 of half pound salmon filets.
Prepare 1 tbsp of olive oil.
It's 1/3 cup of sun-dried tomatoes.
Prepare 3 cups of baby spinach.
You need 1 cup of basil leaves.
Prepare 1/2 cup of feta cheese.
Prepare to taste of Salt & pepper.
Spinach Stuffed Salmon is perfectly seasoned, flaky salmon fillets, and stuffed to the brim with a creamy and delicious spinach filling. Spinach Stuffed Salmon is a simple dish that looks complex. Spinach Stuffed Salmon – spinach, cream cheese, feta, and mozzarella stuffing. Easy to make and great for family, friends, or entertaining!
Stuffed salmon step by step
Preheat oven to 375. Coat an oven safe dish with oil.
Make the filling Use a paper towel to dab some oil of the tomatoes Chop the tomatoes Add oil and tomatoes to a pan over med. heat. Cook 1 min, stir occasionally.
Add basil and spinach to the skillet About 3 min. Stir occasionally Remove from heating unit and add the feta cheese stir well.
Slice salmon through center Stuff salmon Sprinkle with salt & pepper Bake center rack for 20-30 min.
This Stuffed Salmon is so good and looks so elegant, it's well worthy of being served to your Believe it or not, I came up with this Stuffed Salmon recipe one particular evening when I was feeling rather. Stuffed Salmon with Spinach and Artichoke Dip is such a delicious salmon recipe! This stuffed salmon recipe is nothing short of amazing and super easy. In a medium bowl, combine the crab meat, parsley, lemon juice, and garlic. Season with salt to taste, and bam.