Chicken Florentine over Brown rice.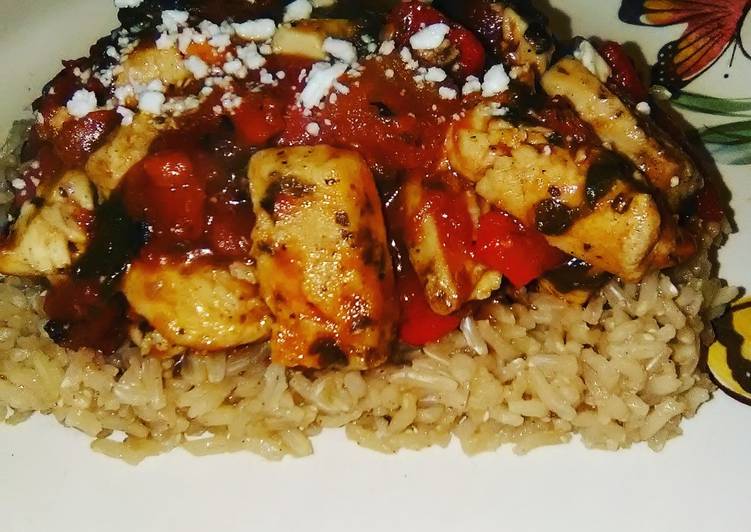 You can have Chicken Florentine over Brown rice using 12 ingredients and 10 steps. Here is how you achieve it.
Ingredients of Chicken Florentine over Brown rice
You need 1/2 cup of Basmati Brown Rice.
You need 8 oz of Chicken Breast (diced/cubed).
Prepare 2 tsp of ev olive oil.
You need 1 of medium red hot pepper (diced).
Prepare 8 oz of can diced roasted tomatoes.
Prepare of Large handful of baby spinach (roughly chopped).
You need 3 cloves of garlic (diced).
You need 1/2 tsp of salt, pepper, basil, oregano, thyme.
It's 12 oz of low sodium chicken stock.
It's 1 tbsp of feta cheese.
Prepare 2 tbsp of Worchestershire Sauce.
Prepare of Small handful of chopped fresh cilantro.
Chicken Florentine over Brown rice step by step
Bring 1.5 cups of salted water to a boil then add the rice & Worchestershire Sauce & cover on low heat.
While the rice is cooking heat up a nonstick pan & add the olive oil.
Season the chicken with the spices & add to the pan with olive oil & add the peppers.
Cook for about 4-6 minutes occasionally stirring with a spatula or spoon. Then add the garlic.
Add 1 cup of chicken stock to the chicken & Pepper mixture. Then cover and keep on medium to low heat. Cook for 15 minutes.
Stir the rice occasionally and add 1/2 cup of chicken stock to the rice, along with pepper & 1/4 of the cilantro. Add 1/2 chicken stock 1/2 water as needed to keep from burning if reduces too much during cooking. At the 18-20 minute uncover the rice.
Add the diced tomatoes & remaining cilantro to the chicken Pepper mixture and cover on low to medium heat stirring occasionally. Cook until mostly reduced on low heat at a simmer.
When the rice has roughly 5 minutes left to cook add the spinach to the chicken mixture & cover stirring occasionally until it starts to wilt in the mixture.
Once the rice is tender turn off both burners letting the rice & chicken sit for 3-5 minutes.
Assembly the rice on a plate. Carefully scoop the chicken Pepper & tomato mixture onto to the rice. Lightly sprinkle with the feta cheese. Packaging the leftovers for the next day or prepare for 2.