Shrimp Fried 'Rice' (Konjac).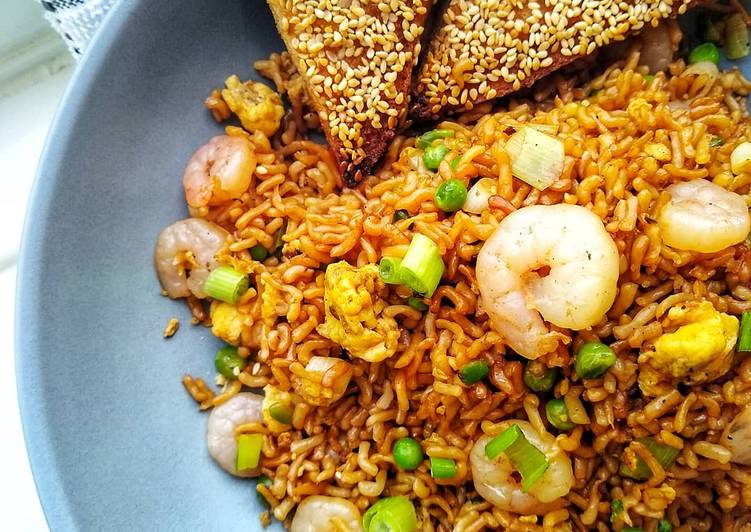 You can have Shrimp Fried 'Rice' (Konjac) using 9 ingredients and 4 steps. Here is how you cook it.
Ingredients of Shrimp Fried 'Rice' (Konjac)
Prepare 250 g of drained konjac rice,.
Prepare 1 of medium egg, beaten,.
It's 100 g of small frozen shrimp,.
It's 3 of finely chopped spring onions,.
Prepare 20 g of petit pois peas,.
It's A few of drops of dark soy sauce,.
It's 1/2 tbsp of light soy sauce,.
Prepare 1 of good pinch of salt,.
Prepare of Vegetable oil for frying.
Shrimp Fried 'Rice' (Konjac) instructions
Boil the drained konjac rice in salted water for 5 minutes then drain it off and set aside. I find this gives it a better texture and removes any smell from the liquid it's stored in, which can smell a bit fishy.
Heat up a wok over a high heat then add in the prawns. Cook until the water is released, then drain it off. Add in the peas and stir fry for 2 minutes. Remove from the wok into a small bowl and set aside. Add in the beaten egg and cook until you have small clumps then place them into the bowl with the shrimp and peas.
Add in 1/2 tbsp oil to the wok and heat. Add the egg, prawns and peas back in followed by the spring onion. Fry for a minute then add the drained konjac rice. Toss everything together. Season with a good pinch of salt, a few drops of dark soy and the light soy sauce. Stir everything together until every strand is evenly coated in the soy.
Serve up and enjoy! :).