Mediterranean Salmon Tray Bake.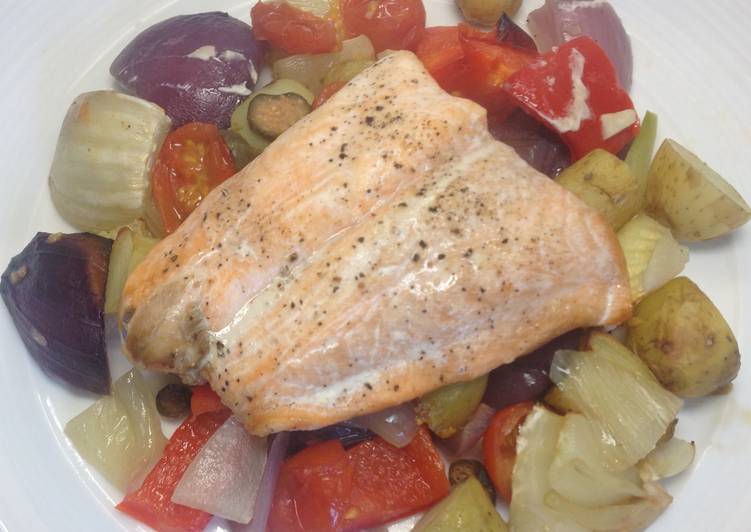 You can have Mediterranean Salmon Tray Bake using 12 ingredients and 9 steps. Here is how you cook that.
Ingredients of Mediterranean Salmon Tray Bake
It's 500 g of salmon filets (4 in No.).
It's 400 g of potatoes baby new (skin on – halved).
It's 300 g of red onion (coarsely chopped).
You need 300 g of fennel bulbs (coarsely chopped).
Prepare 150 g of yellow onion (coarsely chopped).
You need 150 g of red pepper (coarsely chopped).
Prepare 150 g of cherry tomatoes (halved).
Prepare 2 tablespoons of capers (rinsed and sliced).
It's 3 cloves of garlic (finely chopped).
Prepare 600 ml of vegetable stock.
Prepare 2 teaspoons of Italian herbs.
It's ½ teaspoon of black pepper.
Mediterranean Salmon Tray Bake step by step
Pre-heat an oven (200oC / 400oF / Gas Mark 6).
Microwave the potatoes, fennel and onions for 3 minutes.
Scatter the microwaved vegetables and peppers over a large oven tray. Scatter with the garlic and Italian herb.
Pour over half the vegetable stock (and throughout the remainder over the cooking time watch the stock so as to add from add more stock as needed to keep the tray just moist).
Cook in the oven for 15 minutes.
Remove from the oven and scatter over the tomatoes and capers.
Place the salmon filets over the vegetables and sprinkle them with the pepper.
Cook for a further 15 minutes. Ensure the fish is cooked through before serving.
See alternatives!.